Taylor Perry is a globally-recognized SMP Artist and widely regarded as one of the best in the industry
Taylor has revolutionized the premise of SMP Training. You will often see a 3-Day, 5-Day, or even 7-Day long course that promises to teach you everything you need to know. Realistically, that is just not possible. Scalp Micropigmentation is an extremely delicate art form that requires dedication, attention to detail, practice, and most importantly time.
Through Taylor's one-of-a-kind hybrid SMP Training course, a student will learn all the ins and outs of an SMP procedure as well as what it takes for being successful in the field before they even pick up a needle. After a 3-week online training boot camp, graduates will be certified SMP technicians. After earning this certificate, students may opt-in for a 2-day in-person training session with Perry where they can earn their SMP Master's Certificate.
SMP Training
COURSE OVERVIEW
Online & In-Person
SMP Training
Become an SMP Artist with
Taylor Perry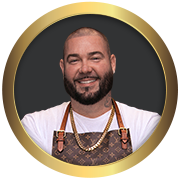 Live Model
SMP Procedures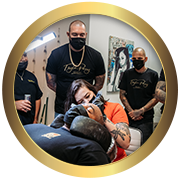 Get Your Master
SMP Certifcate
Get up close & personal! Watch a real SMP Training class at Taylor Perry Studios.
Well, if the results didn't speak for themself...
Taylor Perry is an experienced SMP artist often featured in publications such as BarberEVO and Barber Magazine, with nearly 25 years of experience as a barber, Taylor quickly realized that scalp micropigmentation was the craft he was destined for the second he learned what it was. Today, the award-winning SMP artist operates and trains new talent out of his studio in Hollywood, Florida, and completes 70+ procedures every month; his entire studio completes over 120.
With a clientele full of athletes, business moguls, and on-camera talent, getting a slot with Taylor Perry is difficult, but the work is undeniable. Having decades of experience as a barber makes Perry not only uniquely qualified at being one of the best SMP artists in the world, but it also makes his SMP Training course one of the best places for up-and-coming artists to get their foot in the door of this booming industry.
Taylor's revolutionary 2-day SMP Training course consists of an innovative blend between online and in-person coaching that not only teaches his students everything they need to know but also increases the retention/graduation rate by almost 300%.
Through hands-on direction, effective training modules, and one on one time with your instructor, honing the skills necessary to becoming a renowned SMP artist has never been more achievable.
Course Curriculum Outline
As much of an inconvenience it may be, the truth of the matter is that men and women are balding every single day. It is no secret that Hair Loss is a $3 billion dollar industry. And with supplements and/or transplant surgery not being an ideal option for millions of people throughout the world, scalp micropigmentation has become increasingly popular in recent years.
The average SMP procedure can cost anywhere from $2,000.00 - $6,000.00 (USD) and that does not account for periodic touch-ups that are always recommended. This is not only a great service to offer for barbers like Taylor himself, but also for tattoo artists, estheticians, beauticians, permanent makeup (PMU) artists, or anyone with an eye for detail that is serious about the industry and sees the true potential behind the revolutionary and industry-disrupting procedure.
TAYLOR'S
PROMISE
We aren't just a network, we're a family.
The Taylor Perry SMP community is unlike any other. Naturally, through the class, each student will be fully equipped with not only access to Taylor for their entire SMP career but they will also be given only the best products and tools approved by the King of SMP himself. This includes pigments, needles, as well as Taylor Perry's branded signature foam, butter, aftercare serum, and more.
Students will have access to 10% OFF all Taylor Perry SMP products for retail and bulk pricing.
After completion of the course, each student will receive a free physical copy of Taylor's extremely sought-after book, access to the online course that they will be able to login to for the rest of their lives, and access to private Facebook and WhatsApp groups where they will be able to connect with likeminded artists from around the world.
Through these groups, you will be able to exchange tips and tricks with other artists, seek recommendations, share pictures of work, provide references and referrals, and so much more. In an industry as competitive as SMP, every leg up you have could be vital to the impact you have; due to that, resources such as networking groups can make all the difference in the day-to-day of a SMP (Scalp Micropigmentation) artist.
A WORD FROM
TAYLOR
"I began cutting hair when I was 15 & tattooing didn't come much longer after."
When I discovered SMP, a combination of the two things I knew best, you can imagine how eager I was to get started. I began training day in and day out, any and every way I could until I became the very best. To this day, I attend countless events every year and my portfolio is easily accessible for anyone to see, when I say I am the best, I mean it.
Now I'm ready to bring to you, the Taylor Perry Training Academy, a complete and comprehensive tutorial of everything you need to know to get started in the SMP industry. If you're going to learn, I really suggest learning from the best.
"I look forward to training with you!"
ENROLL TODAY